START ORGANIZING WORK OF EMPLOYEES WITH THE
COMPANY POLICY APP

FOR BITRIX24

Regulate the basic principles, rules and successful actions that guide your company in its work.
THE COMPANY POLICY APP — THE COLLECTION OF REGULATIONS AND INSTRUCTIONS
This is an effective tool for company owners, that allows you to quickly convey important information, rules, technologies, orders and instructions to company employees.


WHAT BUSINESS PROBLEMS IS THE COMPANY POLICY APP SOLVING?
A major problem in companies with more than 10 employees is bringing new information to all company employees. Changes can occur quite often and, due to untimely delivery of information, they can be followed by malfunctions. 
NO
REGULATIONS
NO CLEAR OPERATION SYSTEM
Working rules are not described, there are no standards and instructions.

DOCUMENTS ARE STORED IN DIFFERENT PLACES
IT IS NOT CLEAR WHERE TO LOOK FOR THEM

The rules and regulations seem exist, but no one knows where they are stored.
SEARCHING FOR WANTED
DOCUMENT IS NOT CONVENIENT

There are rules and regulations, but finding something in a folder with hundreds of files (papers) is very difficult.
NOBODY READS THE RULES
EMPLOYEES DO NOT KNOW WHERE THEY ARE LOCATED
The rules and regulations are neatly stitched in the folder of the office manager, but the employees do not read them and do not know them.
COMPLEX PROCEDURE
OF CONVEYING INFORMATION ABOUT NEW REGULATIONS

Rules and regulations are printed and are available to each employee on his desk, Hurray! But a new document has just came out!
PROBLEMS CONVEYING INFORMATION
WHEN CHANGING EXISTING REGULATIONS
Again, dozens (hundreds) of employees need to familiarize themselves with the new documentation by signing up.
WITH THE COMPANY POLICY APP YOU CAN
COMPOSE
THE BUSINESS' ORGANIZATIONAL POLICY
Rules, regulations newsletters, orders, instructions and other files.
DISTRIBUTE
INFORMATION HIERARCHICALLY
Create a category structure. A single document may fall into several categories.

LIMIT
ACCESS RIGHTS TO DIFFERENT DOCUMENTS
Set access rights to categories for different groups of employees or specific users.
INFORM
ABOUT RELEASE AND UPDATE OF DOCUMENTS
You will solve the problem of bringing information to the attention of all employees of your company!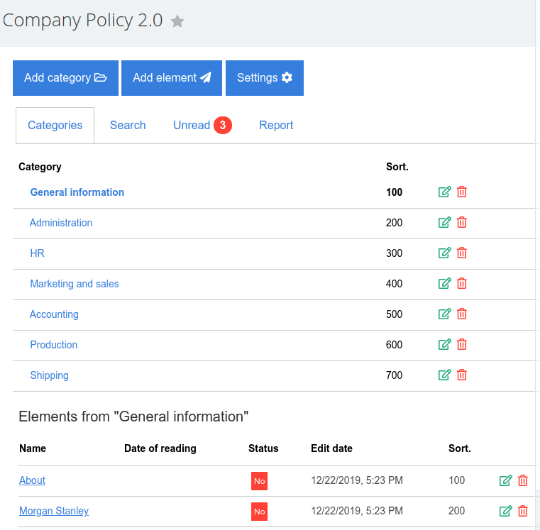 MULTILEVEL HIERARCHIC STRUCTURE
Your own set of rules and regulations for different departments, create sections and subsections to structure information.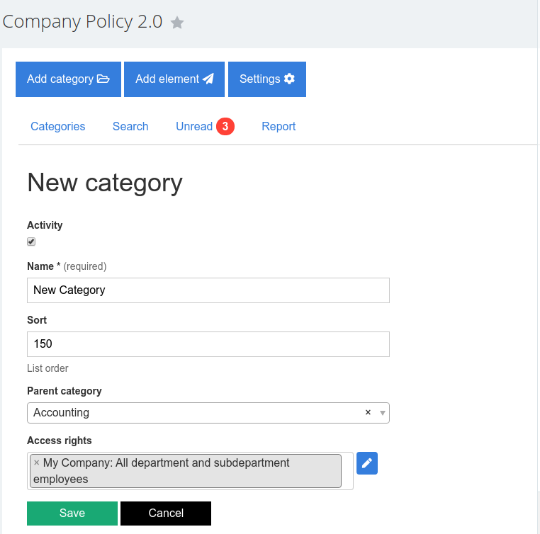 CREATE REQUIRED CATEGORIES
Depending on the sphere of your business and needs, you can customize the application for yourself: write names your of departments, divisions, warehouses, etc.
Any other structure you want!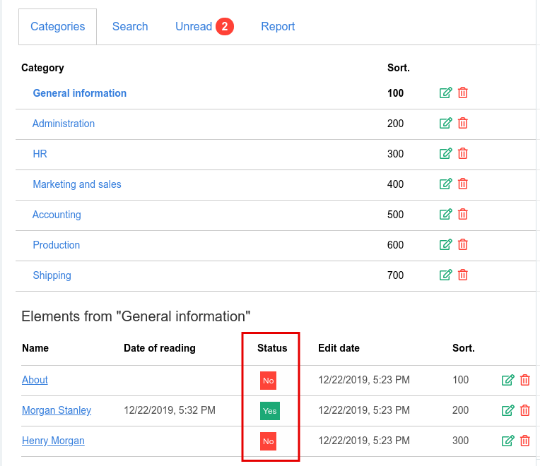 TRACK THE ACKNOWLEDGMENT STATUS
Everything is at a glance!
You can see what date the change came out, you can see when the employee got acquainted with the document.
The manager sees everyone who has not read the document.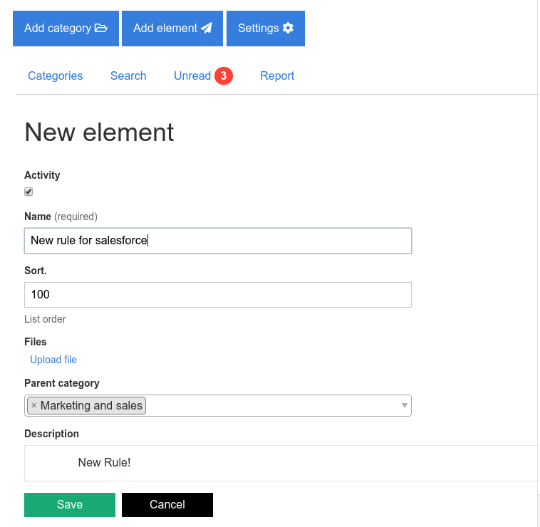 QUICKLY CREATE NEW DOCUMENTS
Choose the parent category, sort order, upload images and format the document as if it's a text editor.
EMPLOYER
1. Creating a new document:
the manager issues a new document in required category. He enters information, sets access rights and saves the file. All marked users receive a notification about a new document and this document appears in their "Not familiarized" section.
2. Editing a text file:
the manager makes changes to the document. After editing, clicks the button "Release a new version" and all users who have access to this document receive a notification, also, the document appears in the "Not familiarized" section.
3. Reading control:
On the "Users" tab, the manager can see all users and the status of documents available to them (familiarized / not familiarized).
EMPLOYEE
1. Reading the new organizational policy.
Each employee in the application has a tab "Not familiarized", which displays all the new documentation for reading.
After reading, the user clicks the Read button and the information is marked as read.
2. Reading organizational policy updates.
When a document is updated, the status changes to Not Familiarized.
HAVE ANY QUESTIONS?
Leave a request if you want to buy or learn more
about using or installing the application!

HAVE ANY QUESTIONS?
Leave a request if you want to buy or learn more about using or installing the application, as well as setting up Bitrix24 CRM!